We connect our committed supporters of '180 degrees turn' on a local level and across national borders. Our network consists of hubs supporting the project on several spots worldwide. Hubs are acting as interfaces between the members of our social community in order to make our work more efficient. Supporters organize themselves within our network by means of various cooperation measures, such as network meetings where they exchange experiences to improve the quality of their work. We are constantly looking up for more supporters to create a bigger and more efficient network.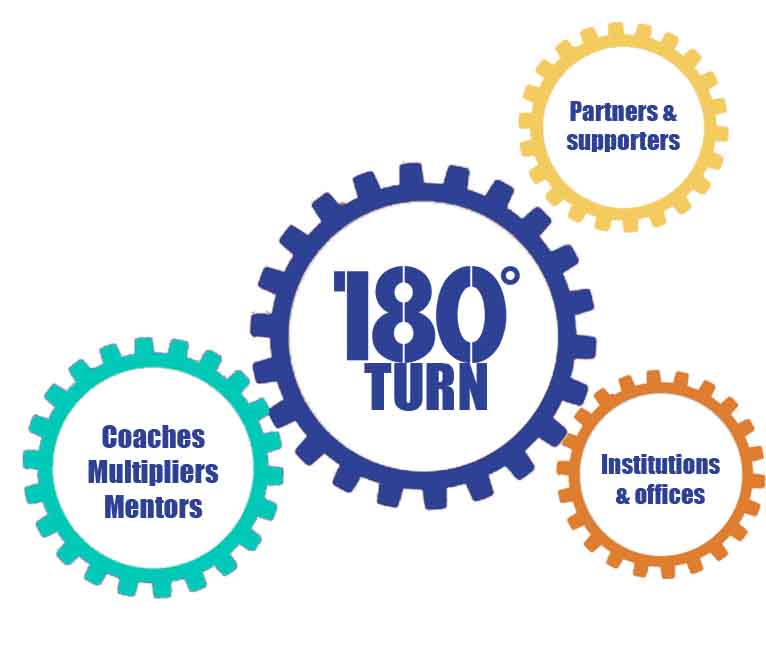 Specific training programs
It is of the utmost importance for us to use the Continual Improvement Process in its various ways along the participation of our supporters. As longtime members of our initiative, we have developed specific workshops and courses to train multipliers, project managers and young leaders on an international basis. Our training programs have been designed by interdisciplinary experts and been proved in practice.
Social sustainability means to maintain a balance between social values and professional success. It is important to know that a successful project should not be only associated with numerous meetings and workshops as it should be linked with the achievement of our specific goals. Therefore, we realize projects from the planning to the implementation by taking advantage of a special-designed hybrid approach. This means that we do not only maintain our position until we have reached our goals, but until we can guarantee a sustainable effect in the respective community we are working with.
Resocializing young detainees
'180 degrees turn' is not only committed to care for young people who lose the way, but we also strive to help people who are already in prison. Through the organization of round tables with detainees, we try to support their rehabilitation process as best as we can.
The multiplier training program consists of four theoretical modules and a few practical modules, like visiting police stations and youth clubs. If a multiplier attends all the required training sessions, they will receive a certificate signed by our partners or us.